It's been a crazy month, and I've been less than diligent in blogging on a regular basis. Sorry about that (on the off chance that anyone out there really cares!). Here's the latest:
I'm doing a series on the Gospel of John at my new church.  It's been pretty cool, but I have a feeling we'll be looking at John for a long time.  It's been four weeks and we're still not out of chapter 1!  The most striking thing about John so far is the humility of this loving apostle.  Instead of claiming any authority or power for himself, his life is totally and completely dedicated to pointing others to Christ.  I love it when he says of Jesus, "

He is the one who comes after me, the thongs of whose sandals I am not worthy to untie. (John 1:27)"  Talk about a guy who knew his role and embraced it wholeheartedly!!
We've been on a couple of cool trips this summer.  First we went to family camp at Horn Creek in Colorado.  The coolest part of that trip was our venture to Great Sand Dunes National Park.  They say certain scenes from Star Wars were filmed there.  I kept hoping to see a Jawa, but lucky for my droids there were none to be found.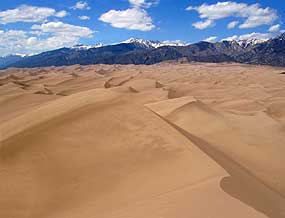 Our second trip was to Navarre Beach in Florida, and it was good as well.  The highlight of this trip was our stop in Baton Rouge on the way back.  Mike the Tiger was active and ready to pounce (no doubt on a Georgia Bulldog or an Ole Miss Rebel!).  The kids enjoyed it, and it was my wife's first time to see the new habitat built especially for LSU's famed mascot.  Oh yeah, and the beach was cool too!

We're finishing off the vacation season with some time at our family ranch in DeRidder, LA.  This is the place where I grew up swimming in mud holes and shooting snakes with bb guns.  It's not the prettiest place in the world, but it's home.  Ahhhh nostalgia!

I'm finishing up a project for Blue Fish TV that should go to press soon.  It's a study guide for an upcoming video series on Erwin McManus' book, Uprising.  Bet my high school English teacher never thought I'd be published!  Take that Mrs. Z!!
Looking forward to being back in Corsicana this week.  VBS will be in full swing, and I'm hoping to finally settle in to life as a sr. pastor.  The honeymoon will be over soon, but I'm hopeful and excited about the future.  
I'll write again soon, and maybe next time it won't be all about me!  Probably not, but maybe.