It's been a really long time since I've tried to crank this bad boy up to see if it still runs. Life is busy, I guess, and I just haven't felt inspired to update my blog in a while. I'm not really sure I feel all that inspired to update it today, but I've been sick all week, and the thought of melting into the couch one more day is killing me! So I guess this is what you can expect from my blog from now on: When I'm not sick, I won't post. When I am sick enough to be really tired of being sick, I'll post something. Deal? Deal.
Joining me in sickness today are my son's Pierce and Quinn. There's not much worse than taking care of sick children when you are also sick. There's going to be trouble if we all have to throw up at the same time. This town's not big enough for the three of us!
Where's my wife, you ask? Well, she works at Navarro College, and school started this week, so she's pretty out of pocket. I think she's really happy that she doesn't have to be here. I would be!
I saw this picture at www.bagofnothing.com, and it made me laugh:
We went to Roanoke, TX on Sunday night and spent the night with our old neighbors, who also happen to be some of our closest friends. They have 4 kids, and we have 5. They also have some other kids who are staying at their house because they are very wonderful people who do that sort of thing. There were 13 kids and 4 adults in their house Sunday night. It was a free-for-all!
We had a blast with our friends!! We stayed up until 3am and talked and played games and talked some more. You can't do that kind of thing with just anyone. Only special friendships with special people can give you that kind of freedom. Either that, of we're all insane. Not sure which.
We ate at Cowboy Chow in downtown Roanoke, and if you haven't either been to Cowboy Chow or downtown Roanoke, you're missing out. Cowboy Chow is, as its name suggests, a restaurant which features the type of food you might have eaten on the Old Chisholm Trail, or something like that. I had the "Tater Parfait", which was a layer of mashed potatoes on top of a layer of black beans on top of a layer of brisket... Twice! It was served in a mason jar, and it was absolutely delicious!! Kim had the "Ranch Cigars", which is brisket and cheddar cheese rolled tightly in 4 flour tortillas, and flash fried. It was served with mashed potatoes and a delicious three cheese ranch . Kim's meal was better than mine, and mine was dang good! There's another Cowboy Chow location in the Deep Ellum area of Dallas.
Downtown Roanoke, TX has become one of my favorite locations in the Metroplex. It's changed a lot since we lived there, when the wonderful Babe's was the only real attraction. Now it's loaded with good restaurants, including Cowboy Chow and Twisted Root (a great place to get an awesome hamburger), and they've redone the roads to give it a quaint, old main street vibe. You should visit sometime!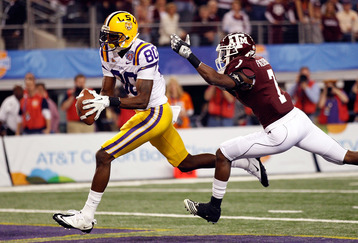 There's been a lot of LSU buzz since the Tiger's whipped the Aggie's in the Cotton Bowl. Coach Les Miles turned down the Michigan job in favor of staying in Baton Rouge, and even though Miles is extremely goofy, you can't really argue with his record. Four 11-win seasons in 6 years is pretty impressive, and he's also 5-1 in bowl games. And, oh yeah, there was that National Championship in 2007. I'm happy he stayed. If you don't think he's goofy, check out this web page, which offers a compilation of Miles' quotes. It's oddly addictive.
There are tons of reports today that Steve Kragthorpe has been hired as LSU's new Offensive Coordinator. Kragthorpe is known for his offenses at Tulsa and Louisville. Seems like a solid hire.
Ok, well, that's all I got! Until the next time I fall deathly ill....